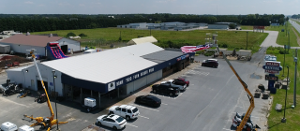 About Barton's Rental
We'll do our part to make your special event even more memorable!
If we don't have the rental tools, wedding/party supplies or inflatables you are looking for we will do what we can to obtain it.
Barton's Grand Rental Station, also known as Barton's Rental of Seaford, Delaware - has been in business for over 15 years. Phil Barton and Tim Conaway started the operation back in 2007. In June 2021, Cody Shields took over ownership of the Rental and Landscape supply store. Barton's Rental of Seaford, Delaware, prides itself on customer service, maintenance of our equipment, and the cleanliness of our inflatables, tents, and party accessories.
Also - Barton's Rental is constantly expanding and adding to its inventory. If we don't have the rental tools, wedding, party supplies, or inflatable rentals you are looking for, we will try to get them for you or refer you to someone who may have it! Just ask - and we'll do our part to make your event memorable! Barton's has three full-time employees ready to serve you – Sean, Jeni, and Evan. They ask a few more part-time people to join our crew in the summer to help with deliveries, tent set-ups, and cleaning equipment.
We are expanding in the rental department and taking pride in finding and selling customers the best landscaping supplies. We offer bulk materials such as mulch, stone, and pine needles. We also carry shrubs and trees in the spring. Please stay tuned for this side of the business because we are continuing to grow and will be looking for different ways to help customers in the area!

Bartons Rental's Mission is to provide the best possible service to our customers while giving them the options and advice on their particular job so that they can complete their tasks in a timely and professional manner. This includes weddings, parties, and homeowner jobs. Our goal is to be the best rental store we can be, provide exceptional service, and keep our customers returning for all their construction tools, party and concession supplies, wedding supplies, and inflatable rentals.